Become a Qualified Solar & Battery Installer in Australia
Solar Training Centre provides industry-leading solar and battery education and consultancy services to the solar sector in Australia.
It is a division of Green Business Audit & Training, a national award-winning Registered Training Organisation (RTO No 40352).
Our Commitment to You
Solar Training Centre does not have commercial ownership interests in solar sales and marketing companies or in ASR/NETCC companies or companies employing Accredited Installers.
We offer nationally accredited qualifications, non-accredited solar courses and professional development courses in solar PV and battery storage. Our courses are recognised by the Clean Energy Council and are the first step towards gaining Solar Grid PV, Battery Storage and Stand-alone (Off Grid) CEC accreditation.
Solar Installer & Battery Courses
Click below for info and dates
Testimonial 6
Thank you for sending the certificate. Thanks and best regards to you and your team. You guys have been very helpful during both solar and battery design courses and because of these courses, I have recently secured a job in renewable energy industry as a "Solar Design Engineer", and when I mentioned these courses during the interviews, it increased my chances of getting the job substantially. Thanks and best regards to you and your team!  - Abdul F
Testimonial 5
"Just wanted to take some time to personally thank everyone there especially Craig. The course was very informative and everyone was extremely accommodating with guiding me through certain parts of the course. I appreciate the extensions given as it is sometimes hard juggling a business as well. Great course and will be recommending to anyone interested."
Testimonial 4
Can't recommend Caz and her team and Solar Training Centre enough! Great organisation, in-depth and hands-on experience learning! I did the course myself and put a couple of my A grades through them as well.
Testimonial 3
Training was interactive, fed my need for knowledge and brought in real life and international perspectives.
Testimonial 2
Enjoyed everything...the training, facility, theoretical and practical work.
Testimonial 1
I very much enjoyed the course and welcomed the opportunity given to me to engage in this exciting new career!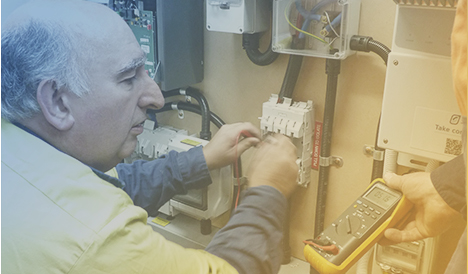 About Solar
Training Center
The Solar Training Centre offers CEC accreditation courses and non-accredited solar courses for Solar PV and Battery Storage Design and Install. In addition, courses are offered for Solar CPD, Solar Sales and Solar Design Basics.
Our Training Team features respected solar industry experts with local and international experience. Our battery storage training, one of the greatest demand areas in the case for renewables, features industry experts with unsurpassed credentials. Visiting trade and product specialists compliment the Training Team.
Our training facilities include multiple live solar installation and battery workstations providing real-life practical training experiences. Our training facilities in Adelaide, Melbourne, Brisbane and Darwin are unsurpassed for those wanting to become a qualified solar panel installer, through our solar accreditation training and solar courses.
Aspiring solar installers complete their Solar PV Grid Connect Installation Course ,  Solar Battery Storage Course and Stand-alone Power Systems Courses with us, and go on to apply for provisional Installer accreditation with the Clean Energy Council of Australia.
Our team makes this the best place to train in solar and battery systems!
The Solar Training Centre is also suitable for diverse functions and is available for:
CPD Training
Trade nights
Product launches
Toolbox meetings
Public information sessions
Solar Training Centre is strongly supported by the solar and storage industry stakeholders.
Solar & Storage is unstoppable!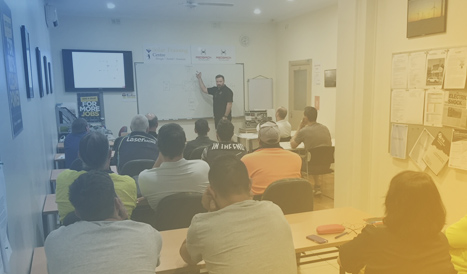 About Green Business
Audit & Training
Our national award-winning Registered Training Organisation (RTO) and consultancy works with clients across Australia to deliver adult education, training and commercial strategies that promote the best possible outcomes for energy, waste and water auditing, solar & storage and retrofitting for energy efficiency.
We deliver a range of qualifications and learning programs customised to learners' needs, and we lead Australia in the delivery of nationally accredited greenskills training for sustainability and the energy efficiency sector.
We have been trusted to deliver training to over 3500 students across Australia since 2009 in diverse industry sectors such as community services, hospitality, solar, local government, utilities, retail sales, construction and manufacturing.
Solar Accreditation Course FAQs
How do I become a solar installer in Australia?
To become a qualified solar installer/designer in Australia you first need to complete a Solar Grid PV qualification through our nationally accredited Solar PV Course.
You can then go on to apply for Solar PV accreditation with the CEC (Clean Energy Council of Australia) here and after completing their accreditation process you can "sign off" systems as a fully qualified and CEC-accredited Solar PV Designer/Installer.
Once you have completed our Solar PV Course you can go on and complete our  Solar PV Battery Storage Course 
You can then add Solar Battery Storage accreditation to your existing CEC accreditation.
Which solar design and install course is right for me?
If you are an electrician, you can complete our Solar PV Course and apply to be a fully accredited Solar PV designer/ installer with the Clean Energy Council (CEC) here.
Electronic and Electrical Engineers can complete the design component of the Solar PV Course  become accredited with the CEC as a Designer of Solar PV Systems
If you are a Mechanical Engineer or hold a Diploma of Engineering or higher please contact us about your study options.